Welcome to Mistflower Press, a small publishing company with a big mission. We are honored by your presence.
Founded in early 2003, Mistflower is relatively new to the book publishing industry. We currently have one title in print -- Tile Your World by John P. Bridge and one ebook -- The Kerdi Shower Book also by John P. Bridge. We intend to publish many more books, so keep an eye on us as we venture into the future.
To order single copies of Tile Your World: John Bridge's New Tile Setting Book, please proceed to the Tile Your World Store (for signed copies). The book is also available at Amazon.com.
For trade orders of 10 or more, please contact us directly. We do not fulfill trade orders of fewer than 10 copies. For single orders please send your customers to the Tile Your World Store or to Amazon.com.
Tile and flooring retailers are also encouraged to contact us.
Review Tile Your World: John Bridge's New Tile Setting Book.
Added 11-9-2008 -- Several tile books have been published since Tile Your World was released, but to date, Tile Your World is still the only book in print that completely covers ceramic tile showers.
New Release (September, 2005)
The Kerdi Shower Book is an advanced how-to (ebook) describing the Schluter Kerdi shower system. It is the very first definitive work on this unique method of building waterproof (watertight) and mold-free ceramic tile showers. The Kerdi Shower Book is sold exclusively at the Tile Your World Online Store. More information is available at the Kerdi Shower Book website.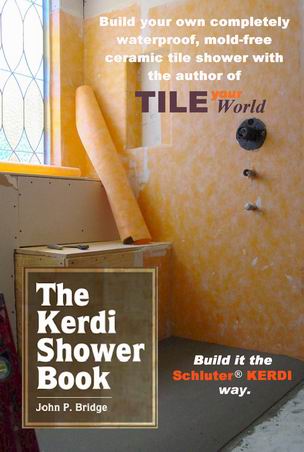 New, REALLY NEW release :-) (Both Part 1 and Part 2 are now in the Tile Your World Store.)
An e-book to be published by Mistflower Press
Bathroom Remodeling: From Tear-out to Trim-out -- Part One by John P. Bridge -- A complete account of how to transform a 5 by 9 "tract house bath" into a thing of wonder. More than 500 color images, comprehensive instructions, including witty and humorous anecdotes by the author.
Plumbing, electrical, air conditioning and ventilation; "framing" with Schluter Kerdi-board and shower waterproofing with Kerdi membrane and Laticrete Hydro Ban. Part One gets you from tear-out right up to the tiling stage. Part Two (to be released late 2011) will cover tiling and trim-out right down to curtains and accessories, to include the installation of Laticrete Floor Heat.
This bath is not a simple rectangle. Introduce yourself to curved walls, radius corners and elliptical benches and vanities. No longer will you be captive to the right angle. Exciting. Be on the lookout.
Contact Information
Postal address

Mistflower Press
6717 Mistflower Lane

Katy (Houston) Texas 77449

Electronic mail

General Information: info@mistflower.com
Webmaster: webmaster@mistflower.com